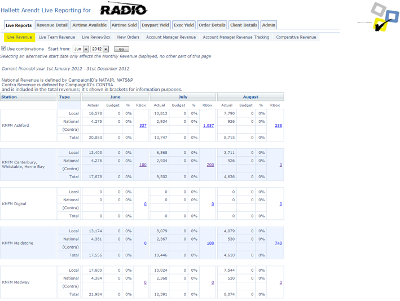 Live Revenue is a unique product, designed by Hallett Arendt, to give a Radio Station or Radio Groups' key management up to the moment, sales revenue data.
Not only can you see what revenue is being taken, at any moment, for today, this week and this month by both an individual station and/or a sales team and/or across a Group, full granular detail can be accessed.
No software is required just a web browser in order to access a secure server linked to your Airwaves system.

Via Live Revenue it is possible to track both minutage sold and still available, plus what yield is being taken for individual spots, sales packages and for any period including rate card segments, days, weeks and months.
Comparative historical data is available too.